Ascento 2 Robot – Two-wheeled jumping robot can adapt to any terrain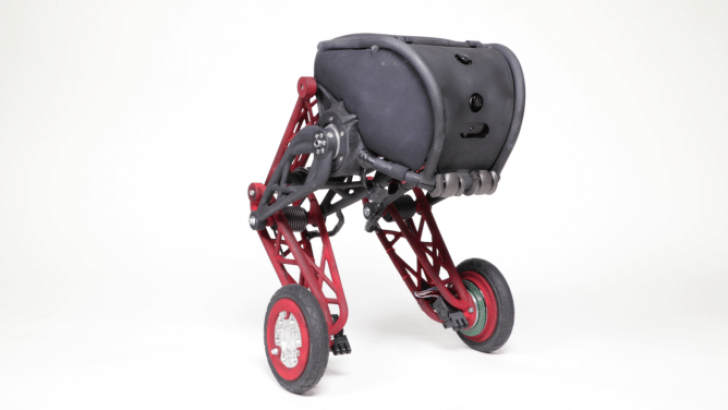 This is Ascento 2 ROBOT
Two-wheeled jumping robot can adapt to any terrain.
JUMPING AND FALL RECOVERY
The combination of springs and high torque motors enables the robot to overcome stairs and other obstacles by jumping. In addition to jumping, Ascento is able to recover from a fall and enter different resting positions.
TOPOLOGY OPTIMIZED PARTS
All structural parts are topology optimized and 3D printed out of PLA plastic. This reduces the overall mass for more efficient jumping without compromising durability and robustness of the parts.
ROBUST STABILIZING CONTROLLER
A model based control algorithm keeps the system stable and robust at all time. Additionally, a jump controller and a fall recovery controller are implemented separately.
OPTIMIZED LEG GEOMETRY
An optimized 3-bar leg geometry decouples driving from jumping tasks and provides a simple way to extract both legs individually. Torsional springs counteract the robot's own weight increasing overall efficiency and jumping height.
CUSTOM WHEEL MOTORS
The Ascento robot has a custom wheel hub motor assembly with frameless motors. This provides a near-zero backlash and high wheel torques for smooth driving and to counteract high disturbances of the robot's tilt angle.
VISION AND AUTONOMY
Using various cameras and sensors, Ascento is able to create a 3D map of its surroundings. Together with vision and path planning algorithms, it can drive completely autonomously and thereby discovers its environment.
Total Weight: 10.4 kg
Operation Time: 1.5 h
Max. Jumping Height: 0.4 m
Max. Velocity: 8.0 km/h
Control: 3D Mouse and Gesture Control
Cameras: Vision Algorithms for Autonomy
Visit: https://www.ascento.ethz.ch for this content
#Ascento #engineering #engineer #robot #robotics #startupselfievideos #industry #technologynews #technologytrends #science