Thai University Turns Old Smartphones Into Microscopes for Students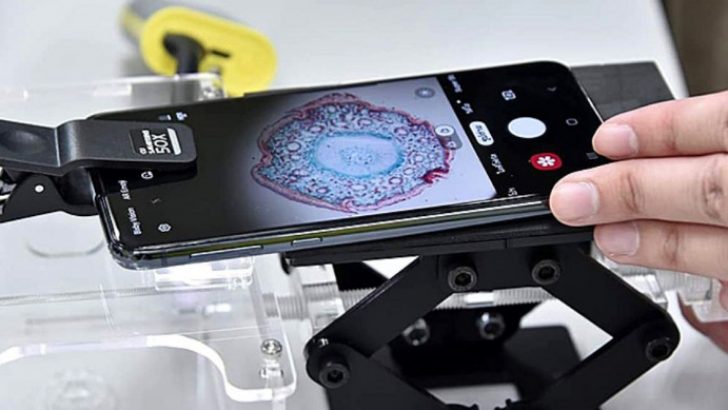 The revamped microscopes will go to marginal schools that lack proper equipment.
There are many uses for your old smartphones. We have covered this already in one of our articles that taught you how to turn your old phone into everything from an alarm clock to a baby monitor.
RELATED: 11 of the Most Memorable Quotes From CES 2021
A smart lens
Now, it seems a university in Bangkok, Thailand has found an even more ingenious way to make use of old phones. "Chulalongkorn University, in cooperation with the Ministry of Digital Economy and Society, will retrofit 500 old smartphones donated by Thai Samsung Electrics, Co., Ltd. with CU Smart Lens invented by Professor Sanong Akasit, Ph.D., Department of Chemistry, Faculty of Science, and turn them into microscopes," reads the university's press release.
The release calls the project the "2,500 Microscopes from Old Cell Phones for Marginal Schools" so we are assuming they will be retrofitting 2,500 cell phones. The press release adds that the university and ministry will "use discarded cell phones instead of microscopes in schools throughout the country that are deprived of science equipment" and that the "project was created to promote equal access to quality education for students across the country while reusing old equipment."
Details needed
Unfortunately, it does not give much more details than that. We know that the phones will be "revamped" with this so-called "CU Smart Lens" but we don't know what exactly it is, or how it helps turn phones into microscopes. An image of the device provided by the university shows the phone exhibiting on its screen something that looks like an enlarged microorganism.
Could the new lens use the phone's camera to take super magnified images? The clap holding the smartphone has a "50X" on it which could indicate that the revamped phone magnifies items by a factor of 50.
Despite the many unknowns, we still think this a cool project that both helps students and reduces waste and we hope to see other institutions around the world drawing inspiration from this.